Get a free quote today.
No Chemicals!
Customized for your home.
100% Results Guaranteed.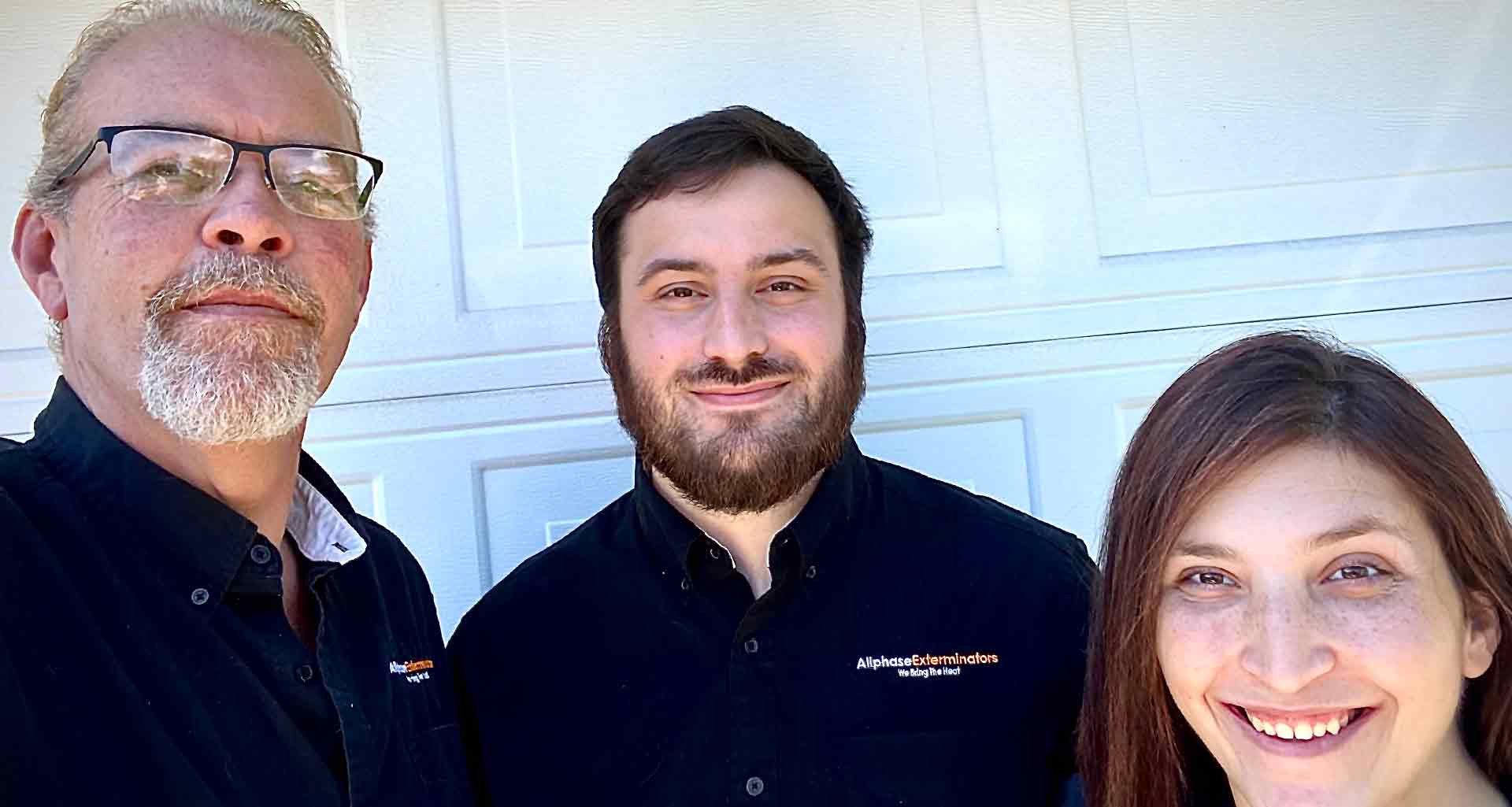 Eco Friendly Bed Bug Exterminator
We have built a successful extermination business by investing in the most up-to-date heat treatment technology. We use a bed bug heat treatment system because it is the most effective way to kill bed bugs and the safest solution to protect your family and your home.
Better than Other Bed Bug Extermination Companies
Professional Visual Inspection & Canine Bed Bug Detection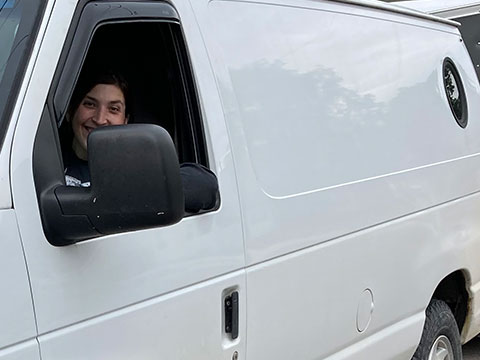 PROFESSIONAL VISUAL INSPECTION & CANINE BED BUG DETECTION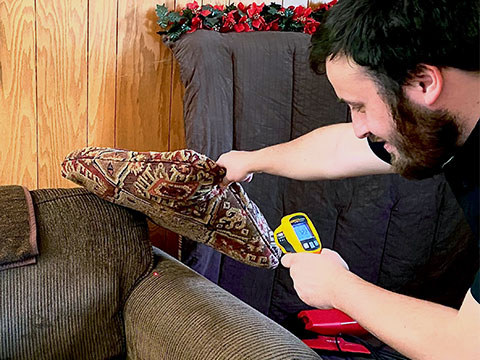 Bed Bugs Dogs Detection Services
Better bed bug control starts with early detection. If you suspect that there may be an infestation present in your home, the experienced technicians at Allphase Exterminators can help. We are pleased to provide affordable, certified bed bug sniffing dogs, trained to quickly and correctly identify even a single bed bug egg where you live.
Allphase Exterminators is your heat extermination specialist offering both professional visual inspection and canine bed bug detection services in addition to our eco-friendly treatment trusted throughout Grand Rapids and all of West Michigan.
Superior Scent Detection with 94% Accuracy
For many years, dogs with their superior sense of smell have offered tremendous support to police, fire and search and rescue operations. Now, man's best friend has also become a powerful ally in the fight against bed bugs.
Our K9 bed bug detection service dogs have been exceptionally trained to identify the presence of bed bugs and their eggs in your home, and have proven to have an incredible 94% accuracy rating.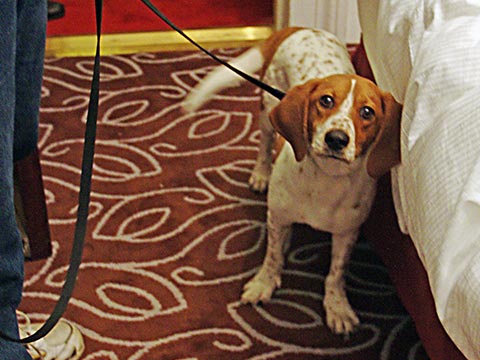 How Bed Bug Dog Detection Works
As anyone who has tried to conceal a tasty treat from Fido already knows, the canine sense of smell is many times more sensitive than that of a human's. Incredibly, your pet has approximately 2 million olfactory receptors working to interpret the world around them.
With the help of their highly skilled trainer and a capable nose, bed bug dogs are your best weapon against an infestation in the home. Working with a single dog or a pair of canine partners, our trainer facilitates and verifies the animal's search of your place of residence. Friendly and reliable, these specialized working dogs are trained to be thorough, and will sit and indicate the presence of bed bugs when and where they are found in the home. Should the qualified handler confirm the presence of bed bugs in the identified areas, professional extermination, such as the guaranteed effective Allphase Exterminators heat treatment, will be recommended.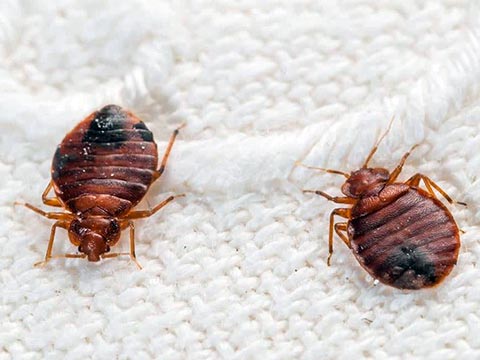 Where Bed Bugs Hide May Surprise You
In spite of their name, bed bugs commonly hide not only in mattresses and bedding, but may also be found in other places such as drapery, lamps, and even books or laptops near sleeping areas. Averse to light, many prefer nooks and crannies in the home, particularly close to where you are. In fact, given their preference for humans as a food source, you may be no more than 16 feet away from one at any given time.
Book your confidential K9 bed bug detection service and eco-friendly heat extermination today.
If you think that you may have bed bugs in your home, we can help. At Allphase Exterminators, our heat extermination services are backed by our exclusive 100% guarantee.
We invite our customers to take advantage of available bed bug dogs for hire at affordable rates. Call our friendly and experienced team of licensed exterminators in your area toll-free at 1-800-335-9871 today.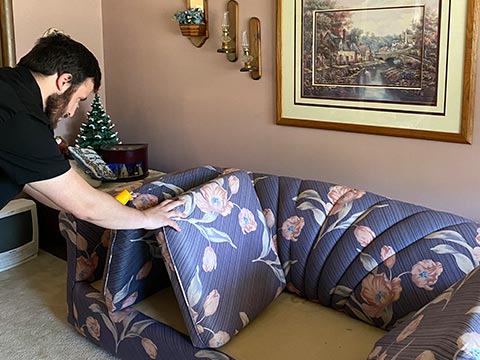 Moving? Ask About Our Inspection Services for Your New Property
Avoid the hassle of discovering an infestation too late. At Allphase Exterminators, we are pleased to offer mobile inspection, canine bed bug detection, and heat treatment services for your new home, before you move in. Protect your possessions, save time and gain the peace of mind that comes with knowing your next address is bed bug-free.
At Allphase Exterminators, we are committed to providing our customers and their families with superior, eco-friendly services at a fair price. Allphase Exterminators employs naturally effective, non-toxic heat without the use of harmful chemicals. The Allphase Exterminators heat treatment is designed to kill bed bugs at all life stages, without damaging your property. We invite you to refer to our list of household items, such as temperature-sensitive artwork and musical instruments, which should be removed from the home prior to your bed bug heat treatment here.
By using a bed bug dog service, home owners may avoid misdiagnosing the problem or misusing chemical products which could be hazardous to the environment, or even cause serious illness in humans and their pets. Allphase Exterminators is pleased to provide canine detection service and offers a safer, 100% effective one-and-done alternative to chemical sprays.
We respect your right to privacy. At Allphase Exterminators, our bed bugs dogs detection and heat extermination services are confidential; and, since our equipment is unmarked, discretion is guaranteed.
After finding a bed bug , I put one in a jar. Mike confirmed it was one though not full grown. We only saw a few but behind a few are many more to come. Thankfully not a full infestation, but we decided not to take any chances. We had Mike come and do the heat treatment. We followed the well laid out plan on the pre-treatment prep sheet and he was here in just a couple days!
Mike is incredibly patient and talked to me about every question I had. Believe me there were many! I am paranoid about germs and this put me over the top immediately!
He kept in contact during the process and showed us the interior while still heating.
I contacted AllPhase for a home inspection. I left a message and heard back within an hour. My inspection was scheduled for very quickly. After getting confirmation that I had an infestation, we set up an appt to have the work done. The job was done professionally, communication was very thorough. I'm very happy with the service that I was provided. I would recommend Allphase to anyone that is having a bed bug problem. Thanks again for the great service!
Started having problems with the bed bugs back in August. Tried a few different companies with chemical treatments that did not solve the problem and ended up wasting hundreds of dollars. Gave Allphase a call, Mike provided all the information I asked about and more, including directing me to the preparation page on his website in order to get my house ready for the treatment. He arrived on time, gave me instructions on last minute things I didn't think about, and after a quick walkthrough even found some extra items I had forgotten to take out that could have made a mess. From start to finish Mike was professional, informative, kept me in the loop on how everything was going, and I have been bed bug free since his heat treatment. Well worth the price, my only regret about my situation was wasting the time and money on the chemical applications
Serving Grand Rapids, Tampa, and all of West Michigan and Southwest Florida